Arthur W. Dickinson
The Builder of our Block
Arthur W. Dickinson was born July 23, 1869, the son of Chester and Alida (Suits) Dickinson. His great grandfather, John Dickinson, was a farmer and served in the Revolutionary War, later becoming Governor of the State of Massachusetts. The grandfather, Zabina, was also a farmer by occupation, and in the '40s served as sheriff of Amherst County, Massachusetts. Chester, the father, came to Chicago in 1845 by canal and the Great Lakes, and on the trip he met Alida Suits, whom he subsequently married in 1846. After looking around all winter for a good place to locate, he finally settled in what was then Jefferson Township and purchased eighty acres of land, later buying eighty more. He died at the age of eighty-six years, owning considerable property. His wife was seventy years old when she passed away.
Mr. Dickinson was one of the very earliest settlers out on what is now Milwaukee Avenue. In the '50s he was instrumental in having the Northwestern Plank Road (now Milwaukee Avenue) laid, and the place where the Dickinson homestead is now located was used as the point from which the surveyors sighted to the steeple of the Baptist church, corner LaSalle and Washington Streets, in laying out the course of the road. He was a director of the toll road until it was sold to A. J. Snell, and was one of those who called a meeting to organize the township and town of Jefferson.  He served on the town and school boards of the above, and in politics was an active Republican. To him and wife were born the following five children: Clara, now Mrs. Clara Lowell, living on the old homestead ; Edward C, Arthur W, John Wand, Alida A.
Dickinson Tavern History Article
Arthur W. Dickinson, the subject of this review, was educated in the Jefferson grammar and high schools and in a manual training institution. Early in life he entered the employ of Edbrooke & Burnham, architects, where he remained one and one-half years with a view to preparing himself as an architect. In 1905 he began business for himself, contracting and building residences in Jefferson Township and subdividing twenty-seven acres of the old homestead. Here he purchased another tract of land and during the last four years has built and sold over one hundred residences thereon.
Mr. Dickinson is a member of Everett Council of the National Union and a deacon of the First Congregational church. In 1889 he married Altieri A. Huestis, now deceased, and they had one son, Malcolm G.  Mr. Dickinson married Harriet E. Webb, also deceased, and to them also were born three children: Arthur W., Jr., Alida Harriet and Marian E. (deceased).  In March, 1909, he was united in marriage with Charlotte M. Webb, of Chicago, and they reside at 4100 Milwaukee Avenue.
Excerpt From:
History of Cook County Illinois, Volume I
Being a General Survey of Cook County History, Including a Condensed History of Chicago and Special Account of Districts Outside the City Limits; From the Earliest Settlement to the Present Time
In Two Volumes Illustrated
The Goodspeed Historical Association
1909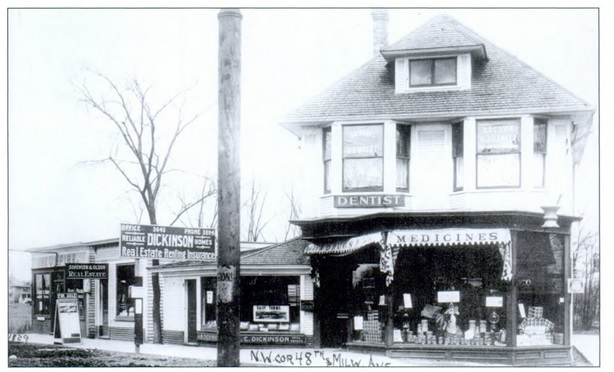 In 1909, Special Park Commission member Albert F. Keeney convinced Arthur W. Dickinson and his wife, Charlotte, to donate a small triangle of land in their subdivision to the City of Chicago for park development. The commission transplanted six young elm trees there in 1910, and excavated, filled and regraded the site four years later. After the Special Park Commission was disbanded in 1915, the shaded park passed to the Bureau of Parks and Recreation, which in turn transferred the property to the Chicago Park District in 1959. By that time, Dickinson Park was being used as a playlot.
Developers Arthur W. Dickinson and George F. Koester took the lead in creating a park district for the area west of Cicero Avenue and persuaded residents to name it "Portage," after the trail used by Pottawattamie Indians to carry their canoes overland from the Des Plaines River to the North Branch of the Chicago River.  Both Dickinson and Koester were familiar with the success of the "small parks" movement led by reformers at Hull House.
Arthur W. Dickinson was responsible for building 15 Arts and Crafts style bungalow houses on the  Oak Circle block in Wilmette in the 1920's. This architecturally unified neighborhood is a national historic district.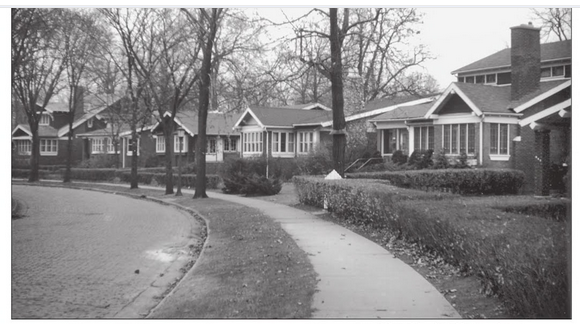 On the  1910 Census, A. W. Dickinson, age 41,  resided at 4102 N. Milwaukee along with:
Charlotte M., wife, age 27
Malcolm G., son, age 18
Arthur W., son, age 7
Alida H., daughter, age 5
Edward G., brother, age 49
Gene, sister-in-law, age 45
On the 1920 Census, A.W. Dickinson, age 51,  resided at 4040 N. LaPorte along with:
Charlotte M., wife, age 37
Arthur W., son, age 17
Alida H., daughter, age 15
On the  1930 Census, A.W. Dickinson, age 60,  resided at 4040 N. LaPorte along with:
Charlotte M., wife, age 47
Arthur Dickinson died on April 30, 1934 in Chicago.

Record of Dickinson family from the 1880 US Census for the town of Jefferson, Cook County.  No street addresses are documented on the census page.  Arthur W. Dickinson is 11 years old at the time of this census.